Regular price
$24.00 USD
Sale price
$19.95 USD
Unit price
per
Sale
Sold out
Clay Type
Art Clay Bronze(TM) is a clay material to make a wide range of pieces such as jewelry, craft designs, and objects like sculptures and models. Art Clay Bronze must be fired in an activated carbon under reducing atmosphere using a programmable electric kiln, with the resulting fired piece being solid alloy (Copper 90%, Tin 10%).
Copper/Tin alloy ratio in Clay state : 90 % (Rest of 10% is Binder and Water)
Shrinkage: Approx.10%-13% in length
Available package:50g (2 pieces of 25g)
Material form: Lump in aluminum package
Characteristics
Art Clay Bronze is a clay material made from alloy powder, binder and water that you can use to make a wide range of pieces such as jewelry, craft designs, and objects like sculptures and models. Art Clay Bronze can be fired and its alloy powder fuses together in an electric kiln using carbon under reducing atmosphere, with the resulting fired piece being solid alloy (Copper 90%, Tin 10%). The percentage of alloy powder in Art Clay Bronze in the clay state is 90%.
Beautiful GOLD like color
Art Clay Bronze has been developed after testing many different metal formulas to ensure the best golden color.
Extremely high strength as alloy
Bronze is an alloy formed with mixture of copper and tin, therefore it gives extremely high strength in both surface contact and bending pressure. Bending strength* of fired Art Clay Bronze is approx. 3 times harder than Art Clay Silver, and surface strength is approx. 2 times harder than Art Clay Silver 950.
*Bending strength is evaluated by force level in bending fired strip to 90 degrees. Higher force level means metal is harder to bend. This does not necessarily mean that Art Clay Bronze has high viscosity or density for reshaping.
Instructions for use
Due to the differences between Art Clay Bronze and other Art Clay series clay (ie. Art Clay Silver), the clays may contaminate each other if mixed accidentally during preparation. This can occur by using shared tools. It is therefore recommended to use separate tools for each type of clay. If this is not possible, please clean the tools carefully after each use to limit the chance of contamination.
If Art Clay Bronze and other Art Clay series clay was mixed, features and conditions for drying and firing would be changed which may break the piece. The manufacturer and sellers will not be responsible for any firing result or accident with wrong use.
Wash your hands well after using the product.
After firing in the kiln, if oxide layer was found on the piece, use pickling solution such as a powder-form pickling compound to remove it.
Follow the written instructions carefully, and do not use this product for any other purposes other than those stated in these instructions.
Do not bend the fired piece with unreasonable pressure.
Storage
Please use the product as soon as possible after opening the original product package.
After opening your package of clay, the surface of Art Clay Bronze will naturally start oxidizing and the color will darken if left in the open air. If you see a darkened surface appear, scrape off the darkened layer and use the internal clay to make your piece.
To avoid oxidation of unused clay after unsealing the original product package, please wrap in several layers of plastic wrap tightly, and then place in a zip-up type plastic bag, or an air tight container. Do not use a rubber band as it may discolor the clay.
Keep the clay indoors at a moderate room temperature and out of direct sunlight.
Art Clay Bronze needs to be fired...
In an oxygen-reducing atmosphere in an electric kiln.


Make sure to fire in a reducing atmosphere, with pieces buried in 2cm of activated carbon in a stainless steel firing pan. When possible, the pan should be on posts, and not directly on the kiln floor. Remove carbon ash and replace with fresh carbon for each firing. Enough oxygen exists to burn off the binder even while your piece is in carbon with the lid on the pan. It is recommended to use a lid on as it will contribute to a more beautiful finished color after firing.

In an adequate temperature


The firing schedule for Art Clay Bronze is 820°C 1508 F for 2 hours (in carbon). However, remember each kiln is different (such as size of firing chamber, muffle vs. brick chamber walls, number of elements, front vs. toploading, etc), as well as the environments around the kiln (temperatures, humidity, altitude, etc). The digitally indicated temperature is not exactly same in every spot in the entire kiln chamber, so it is possible that different places in the chamber reach different temperatures. The most important thing is to place the firing box farthest from the kiln door because the temperature in the firing chamber near the kiln door can be much lower than the programmed temperature.

Always do a TEST FIRE first


Before making your unique projects, make a few small pieces (3cm x 1cm x 1mm) to test fire as a means of finding exactly how your kiln handles the bronze firing. Spread the pieces around in the firing pan and place the pan away from the kiln door. If your test pieces break, the firing schedule needs to be adjusted. If pieces break before bending 90°, increase the hold temperature by 10°C (up to max. 1580 F 860°C).

1. PREPARATION

If you fire a ring, place a circle of firing blanket along the inside band of the ring. This will avoid marks caused by carbon when the clay shrinks during firing. Spread more than 1 cm of activated carbon on the bottom of a firing pan. Place the piece on top of the carbon layer (if you fire multiple pieces together, always have at least 2cm carbon between pieces). Bury the pieces completely under 2cm carbon.

RAMP UP

Place the box farthest from the kiln door, and ramp up from room temperature to 820°C, taking at least 20 minutes to do so.

5. HOLD

Hold the kiln at 820°C for 2 hours.

6. COOL DOWN

Allow the bronze pieces to cool to room temperature before removing from the carbon.
SKU:ACS-BRONZE
Share
View full details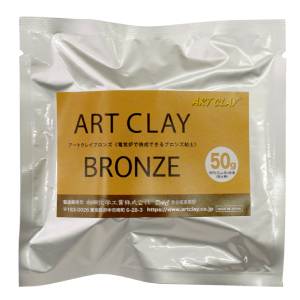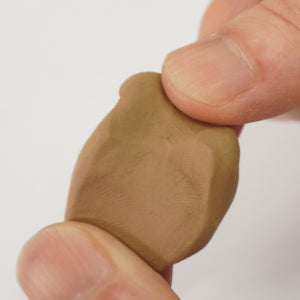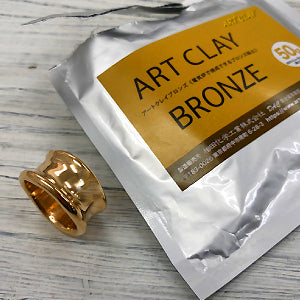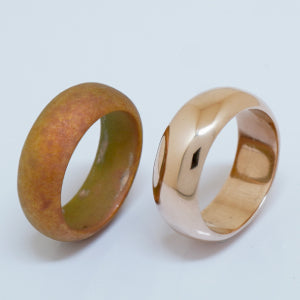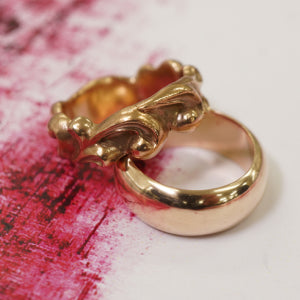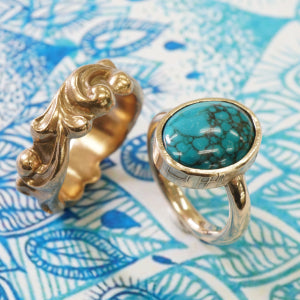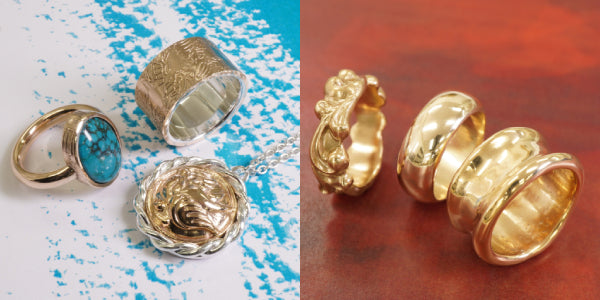 Silver Clay Tool Kit
Everything you need to form Metal Clay in one convenient kit.
Hassle-Free Exchanges

Please Call 800-781-2529 for assistance or email us Sales @ nmclay.com